Die cutting
I now am the proud owner of an Ellison Prestige Pro die cutter. This enables me to produce die cut counters that are hard to distiguish from professional products -- right down the the corner nibs.
Click here for a complete description of the process.
I have plates for 1/2" counters (56 counters per plate) and 5/8" counters, that cover a quarter sheet of paper. A single 8.5"x11" sheet can produce 224 1/2" counters or 144 5/8" counters.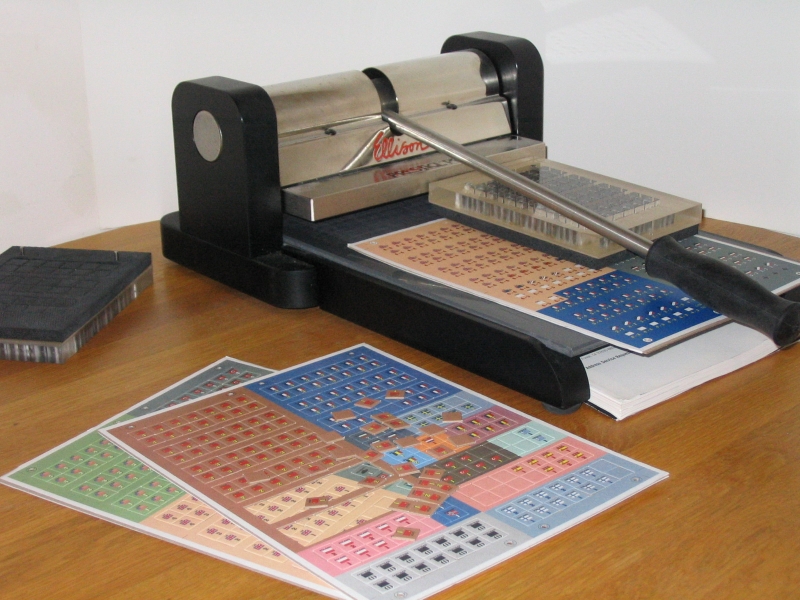 I am now offering my services of die cutting counters for clients. My cutting service is $10 per 8.5x11" sheet (224 counters) or $5 per half sheet (112 counters), plus S&H.
All prices in US$; shipping and handling not included.
Note: Any sheets must conform to the 224 1/2" or 144 5/8" plates. Charges for any additional layout work must be negotiated.
I regret to say that I do not do bulk orders. This is a labour intensive process and I'd prefer to limit myself to my own projects and a few sheets at a time.
---
Common Misconceptions
Before you e-mail me and ask, let me describe some common misconceptions:
The die-cut plate is inflexible, The patterns shown above (224 1/2" or 144 5/8") are for plates that I own. The blades cannot be positioned to create differently shaped counters or different counter arrangements (like the 2x10 counter blocks of old SPI games).
Simple scans of counter sheets from Board Game Geek are generally inadequate to create counters. They are too low of a resolution. My redesigned counters are crisper and cleaner that scanned images.
Scanned counter images have to be edited (cut and paste) to fit into the counter frames. This takes time. Also the black lines and shadows in scanned images from the original die-cutting need to be masked out. Again more time.
I charge $25 per hour for image edits to adjust them to fit into the plates. It takes me about an hour or more to create images from a scanned countersheet.
I do not create counter for games that are currently in print.
The simple message: it is often easier and better to redraw the counters from scratch that to use a poor scan from Board Game Geek.
---
Contact
If you wish to purchase any game parts or have games to sell or trade, e-mail Kerry Anderson for details.
---
Return to Main Page